| | |
| --- | --- |
| | |
Introducing Mantis307 a fat, mean, and rubbery VST synth that was influenced by the raucous sonic stylings of classic synths like the tb303, mc202, nord3, OSCar and juno60.
Features killer unison and distortion, as well as an agressive constant time slide (predictable portamento). In addition, 2 oscillators + subosc per voice, sync, mono and polyphonic modes, keyboard tracking, and 3 envelope curve types. (and much much more!). And with a super low CPU footprint that lets you layer many mantis sounds without breaking a sweat.
Mantis307 was created for raw acidic sound design! ::: Mantis really shines when used like a tb303, as a bassline acid monosynth. To get you started, there are several teebee presets to get the aciiid juices flowing. But don't be fooled, Mantis's range of sounds include much much more than just 303 and basses, hit the audio samples below to see.
Guitars too? Version 1.9.0.0 of Mantis307 adds a powerful little feature to control the sustain part of the filter envelope (using note velocity) for an expressive guitar palm muting effect! Combined with an external amp simulator like Waves GTR, NI GuitarRig, or iZotope Trash, the Mantis307 VST with it's rich unison chorus and 3 tweakable oscillators can easily achieve an aggressive metal guitar 'wall of sound' like you hear in NIN or KMFDM albums - all by itself with minimal configuration. Just check out the 'mutable' patch in the VST, and tweak the note velocity to hear muting change, tweak decay to make the muting more 'snappy'. Listen to the demo, demo#2, or demo#3.
---
GUI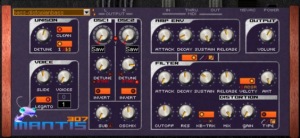 Mantis307
---
Reviews!
i really like it for a simple bombass bassliner -- seriously though....... mantis kicks so much bassline ass. i can't not use it. i have this virus TI, and I use mantis for basslines every time - momerath
The first VST I've found that makes my [Roland] MC-202 almost irrelevant - acidphakist
We've been using mantis since 2004, it's definitely one of our secret weapons - subatomicglue
This is my GO-TO for ripping sounds... I really like how Mantis can be smooth but I LOVE how raw it can be! - pilfermusic
...it is easy to overload, the sound is honest and reminds me very much of the TB303 but other synths from Roland here seem have stood godfather, somehow I feel even when the sounds of my old set consisting [of] members from SH101 and MC202. Really strong is the sound of Mantis307 by the use of unison and distortion ... - buenasideas.de
---
Audio Samples
---
Owner's Manual:
---
Download:
Mantis307 VST is fully functional for unlimited amount of time.
You don't have to pay, this is our gift to you, enjoy.
If you buy Mantis307, we will send you a code to remove the reminder screen.


Windows VST2.4
MacOS VST2.4
---
Purchase/Register:
$44.99
We'll send you a regcode which will remove the reminder screen
(regcode sent out by a human, please be patient).
---
Requirements
Make sure you have the following:
MacOS 10.10 (yosemite) or higher (Intel only, Apple Silicon not supported)
- or -
Windows 7/8/10 or higher
- and -

A plugin host that works with 32 or 64bit VST2.4 plugins
Mantis307 was originally developed on Intel Pentium4 'Northwood' 2.26Ghz, AMD Athlon 64 3800+, AMD Athlon II x4 630, and 1.6GHz Intel Atom N270, under Windows XP SP3 (32bit), and MacOS 10.5.5 & 10.6 on MacBookPro 13" unibody (Intel only. Apple Silicon is not supported). The plugin is optimized for Pentium4 and SSE2 instructions, so make sure your system is compatible with at least Pentium4 and SSE2. On the 2.26Ghz, the plugin consumed about 2.7% CPU for a single 'unison' voice (actually 5 voices in chorus), without unison mantis will use even less CPU, your milage may vary. These low system requirements means that you can stack many many Mantis307s for huge walls of sound.
Cubase 4,5 (OSX/Win) / Nuendo 3.2.0 / Ableton Live 10, 9, 8.0.1, 7, 6 (OSX/Win) / FLStudio for Win/Mac v20 or for Win v9,8.5,8,7,6,5 / Samplitude 11 / Energy-XT 2.5.2 / Podium 2.26 / Reaper 3.35 / MuLab 3 XT / SaviHost / Tobybear Minihost / VSTLord / MaxMSP 5.1 (OSX) have all been tested to work fine with Mantis307, others will likely work as well.
NOTE: Mantis is not a standalone program so you need a host application to use it.
---
Troubleshooting
Please visit our support forum to ask questions, and get help.
In FLStudio, when upgrading to Mantis 1.8.3 sometimes a saved patch in a .flp project file will be initialized to InitSaw. If this happens, downgrade to Mantis 1.8.2 and export the patch, then upgrade to 1.8.3 and reimport the patch you saved. You shouldn't have any trouble after this. For some reason FLStudio has a bug where if the number of patches in the VST changes then FLStudio _may_ fail to initialize the patch properly in the .flp project.


Mantis 1.8.3 for MacOS is universal binary (Intel + PowerPC), and is known to work fine on Intel Macs. However there are reports that Mantis PowerPC has a problem showing the graphics, which are needed to enable the sound in the demo at this time. Give it a try, but your milage may vary.


Mantis 1.9.6.2 for MacOS is universal binary (Intel + Apple Silicon), and is known to work fine on Intel Macs. Apple Silicon is experimental, please let us know your results.


Mantis is compatible with VST version 2.4, if your host does not support VST 2.4 (e.g. only supports VST3) this could be the cause.


There may be other unknown bugs, if you find a new one, report it for a free regcode... (make sure to ask for it!!)
(c) 2001-Present SubatomicLabs